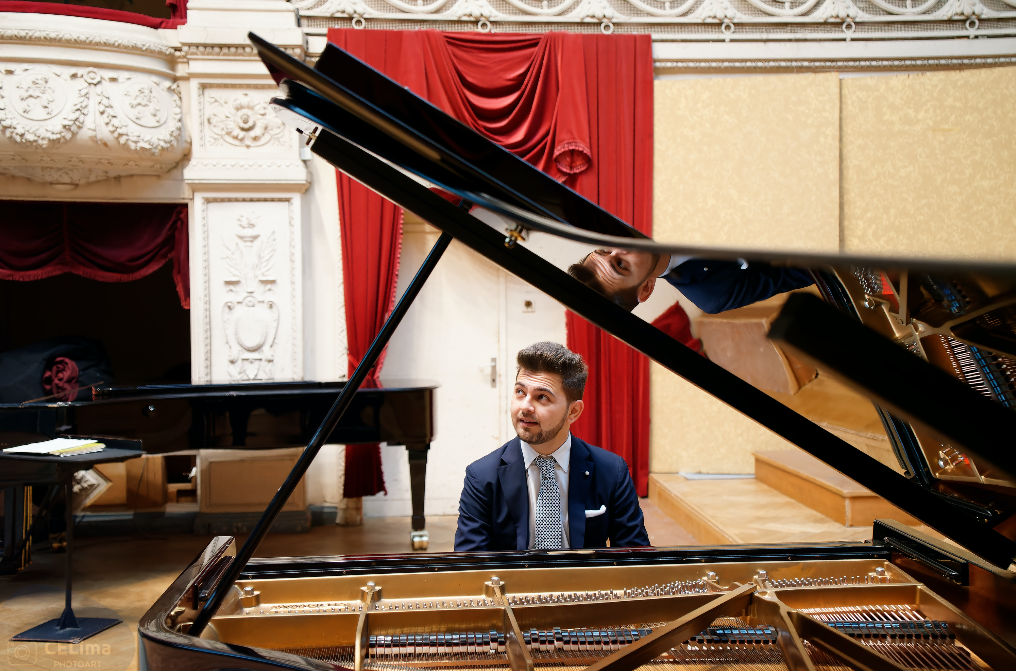 The International Hope Music Festival 2021- Silviu Dumitrache In Concert
Saturday 19th Dec 2020, 19:00 London, 19:00 Brussels

La Dolce vita is happy to represent the Artist in this years's IN Live – Global Festival
Born in Romania, in 1992, the pianist Silviu Valentin Dumitrache grew up in a music lovers family. From the age of 3 years old he is fascinated by the arias of Puccini and Verdi, that his parents were listening at home, sung by Pavarotti. One year later he receives a small piano and he starts playing from memory, by himself, the music from commercials he could hear at the television.
Between 6 and 12 years old he is the student of Alma Peter, a teacher that imposes a very strict discipline and who makes him practice sometimes 8 hours per day! At 18 years old she prepares him in just four months for the entrance examination at the KCB. He became a student of Prof. Daniel Blumenthal and he finishes the Bachelor with the distinction "Cum Laude".
In 2013, his encounter with the pianist and professor Gabriel Teclu allows him to enter in the class of the well-known pianist and teacher Johann Schmidt, at the Conservatoire Royal de Bruxelles, where he finishes his master degree with "Grand Distinction". In 2014 he wins the 1 st prize in the Liege Piano Competition, in 2015 he becomes finalist in the Bluthner Competition where he gets remarked by Jacques Rouvier.
In June 2016 Silviu Dumitrache plays the Grieg piano concerto with the Liege Philharmonic in the final round of the competition Classic Academy.
2017, laureate of the "Concertos Competition", with the concerto number 2 by S.Rachmaninoff, organized by the Brussels Royal Conservatory, prize that offered a solo piano recital in Rome at the Belgian Cultural Center (Academia Belgica).
2017-2018, Brussels Royal Conservatory, specialized master in piano, graduated with "Grand Distiction", author of "The Rhapsody, a confluence between the folk and the savant music", (original title "La Rhapsodie, confluence entre le folklore et la musique savante").
2018, Gerofi Baschwith, prize offered by the "Patrimony Comission" for brilliant results obtained.
During the academic year 2018 – 2019 he is appointed as university assistant at the Brussels Royal Conservatory at the class of Prof. Johan Schmidt.
He followed lessons and masterclasses with well-known teachers and pianists as Jacques Rouvier, Pavel Gililov, Olivier Gardon, Jun Kano, Josep Colom, Pina Napolitano, Constantin Sandu and AlicjaPaleta Bugaj and Boris Giltburg.
Media:
https://www.youtube.com/user/thepianist192