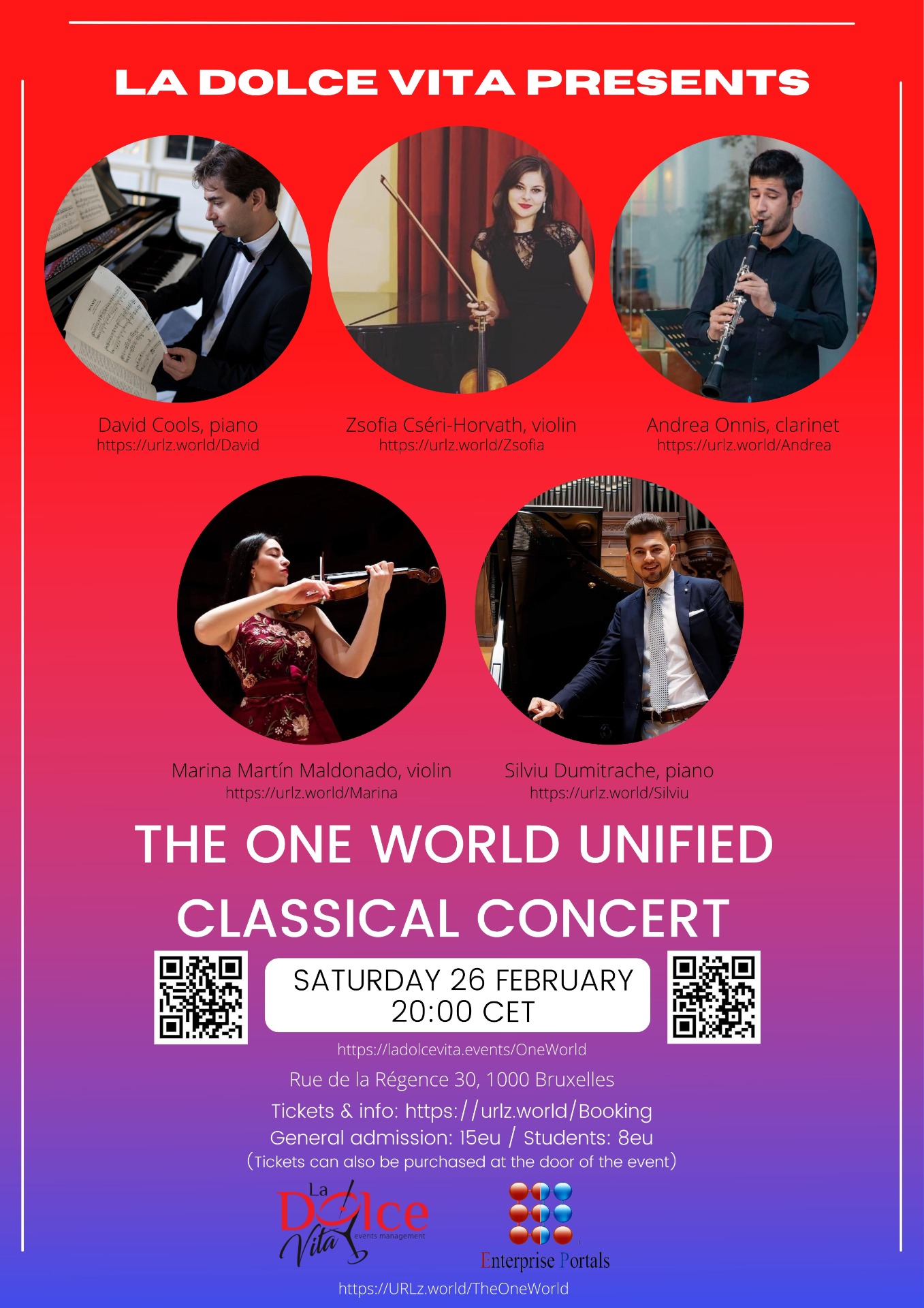 The One World Unified Classical Concert!
Saturday 26 February 20:00 CET
Grand Salle : Koninklijk Conservatorium Brussel
Finally, we gather all La Dolce Vita classical musicians who played a major part in easing our pain during the COVID-19 era. They are playing wonderful Classical music at its highest level locally in the Capital of Europe.
We are proud to present five classical musicians, representing world talents that are combing, 2 Pianos, 2 Violins, and 1 Clarinet.
The Artists:
David Cools, Piano
Zsofia Cséri-Horvath, Violin
Silviu Dumitrache, Piano
Marina Maldonado, Violin
Andrea Onnis, Clarinet
The full program
David Cools, Piano, Zsofia Cséri-Horvath, Violin & Andrea Onnis, clarinet

A. Khatchaturian – Trio for clarinet, violin and piano

D. Shostakovitch – 5 pieces for clarinet, violin and piano

E. Durlet – Canzonetta

J. Pagán – Trio No.1


Silviu Dumitrache, Piano & Marina Martin Maldonado, violin

E. Granados – Sonata for violin and piano H. 127

H. Wieniawski – Romance sans paroles et Rondo élégant

G. Enescu- Ballade
Instructions on buying your ticket

1. Click on https://urlz.world/Booking
2. Click on BOOK NOW icon
3. Click on Radio Button – General or Student then click on red button below "next"
4. Choose number of tickets – PULL DOWN MENU – 1 or more –
click on red button below "next"
5. Choose radio button ETICKET
6. tick box – then
click on red button below "checkout"
7. Enter correct Email address, any post code
or house
no. click red button "next"
8. Enter first name / last name / address 1 / address 2 / country – Choose email click next
9. Click on Credit Card Details Click on Buy Ticket
10. You will receive an email with the ticket